Note: Please reach out to your Customer Relationship Management (CSM) or Technical Account Manager (TAM) to request the enablement of the "Redaction" feature.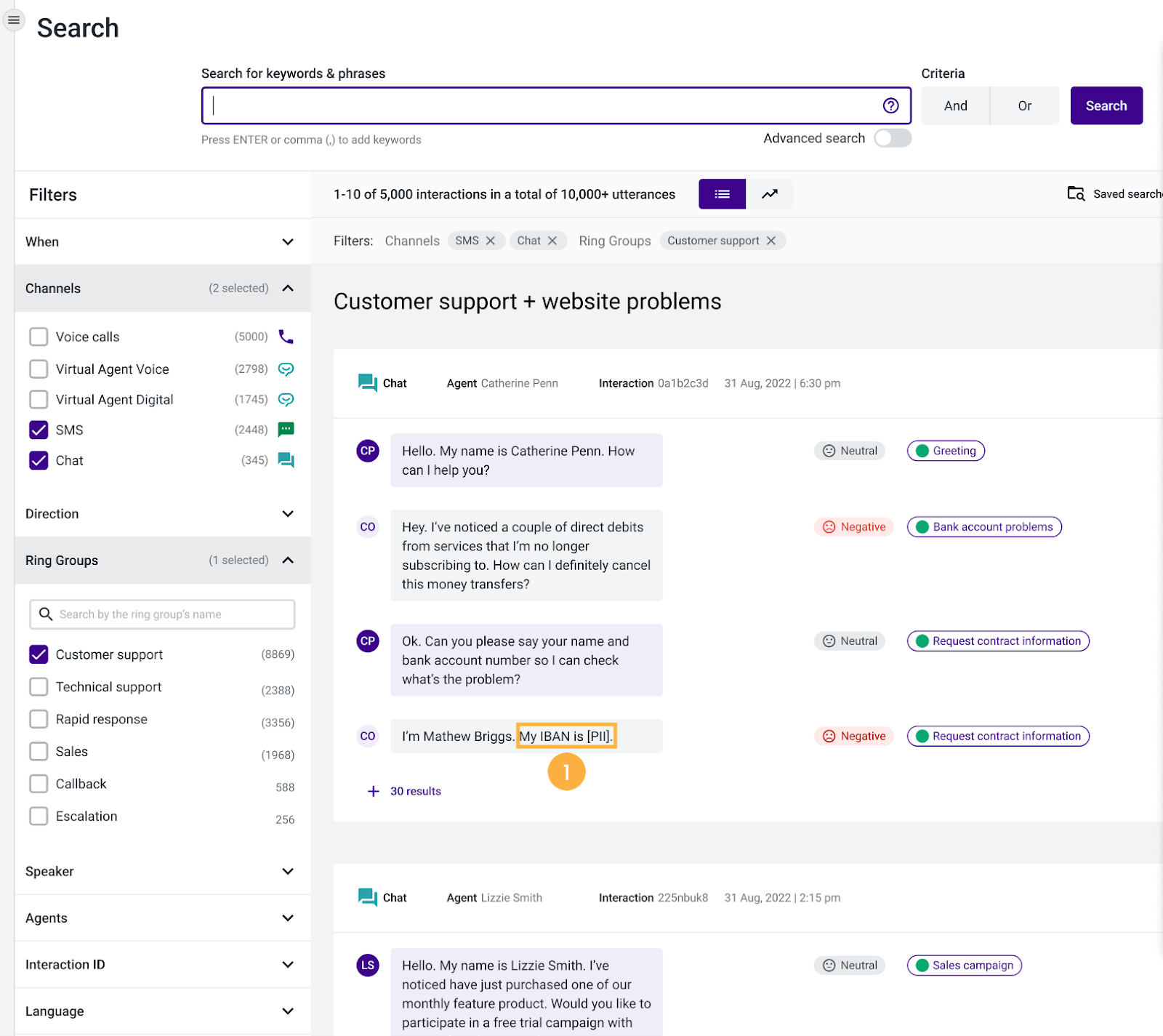 The "Redaction" feature helps to mitigate the risk of customer-sensitive data exposure in Talkdesk Interaction Analytics™ and/or Talkdesk QM Assist™ by masking sensitive data points in transcriptions and digital interactions [1].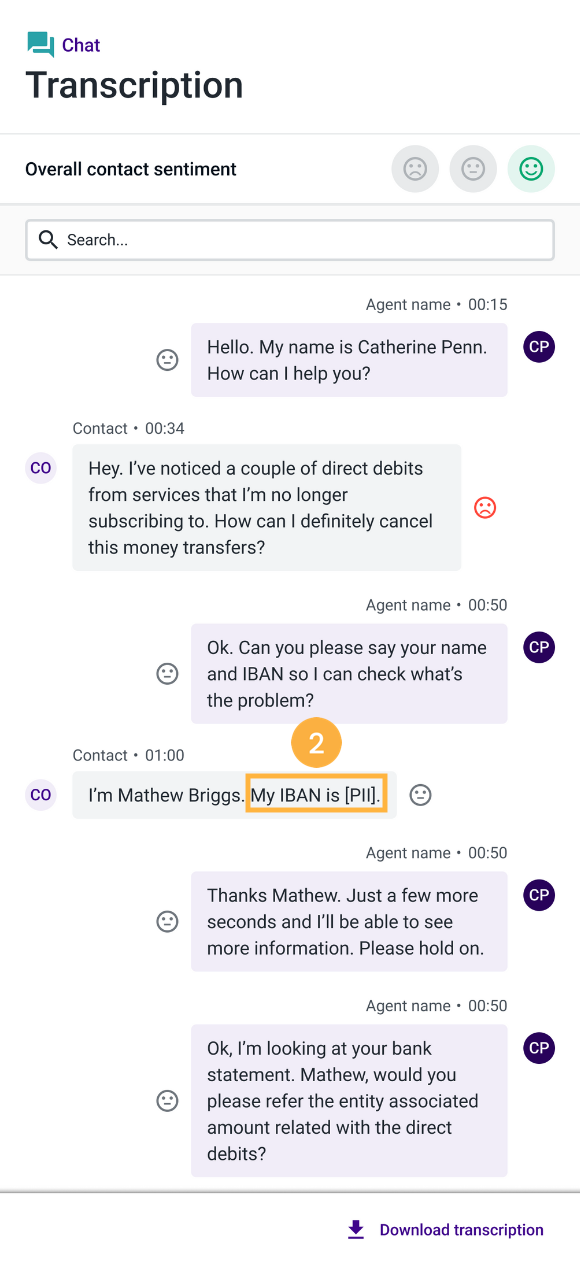 This feature protects Personal Identifiable Information (PII) from being displayed on the transcripts [2], helping to protect data privacy and to reduce expensive compliance risks, while preserving the call's full context.
Applying Redaction
"Redaction" can be:
Applied at Account level: All channels will be redacted (Virtual Agent Voice (recordings) and Digital (SM and Chat)).
Applied at Queue/Ring Group Level: - Voice (recordings) & Digital (SMS & Chat).
Applied at Agent level: Voice (recordings) and Digital (SMS and Chat).
Only applied to English messages.
To know which are the redacted fields, please check the table below:
| | |
| --- | --- |
| CREDIT_CARD | A credit card number is between 12 and 19 digits. |
| CRYPTO | A Crypto wallet number. |
| DATE_TIME | Absolute or relative dates or periods or times smaller than a day. |
| EMAIL_ADDRESS | An email address identifies an email box to which email messages are delivered. |
| IBAN_CODE | The International Bank Account Number (IBAN) is an internationally agreed system of identifying bank accounts across national borders to facilitate the communication and processing of cross-border transactions with a reduced risk of transcription errors. |
| IP_ADDRESS | An Internet Protocol (IP) address (either IPv4 or IPv6). |
| LOCATION | Name of politically or geographically defined location (cities, provinces, countries, international regions, bodies of water, mountains). |
| MEDICAL_LICENSE | Common medical license numbers. |
| NRP | National, Religious, and Political Group. |
| PERSON | A full person's name can include first names, middle names or initials, and last names. |
| PHONE_NUMBER | A telephone number. |
| URL | A URL (Uniform Resource Locator), is a unique identifier used to locate a resource on the Internet. |
| US_BANK_NUMBER | A US bank account number is between 8 and 17 digits. |
| US_DRIVER LICENSE | A US driver's license according to State Driver's License Format - National Traffic Safety Institute. |
| US_ITIN | US Individual Taxpayer Identification Number (ITIN). Nine digits that start with a "9" and contain a "7" or "8" as the 4 digits. |
| US_PASSPORT | A US passport number with 9 digits. |
| US_SSN | A US Social Security Number (SSN) with 9 digits. |
Notes:
"Redaction" may not catch all instances of sensitive information in your transcript. We advise you to review the redacted output to guarantee that it aligns with your requirements.
Please be also aware that the redaction feature does not comply with medical privacy laws such as HIPAA, or PCI compliance.