Talkdesk Phone Mobile App is an extension of Talkdesk Phone™ designed for users who require access to their business telephony service on the go. 
This article details how to access the app and provides an overview of its main features. 
Requirements
To use the Talkdesk Phone Mobile App, you must:
Have Talkdesk Phone enabled in your account  and have a Talkdesk Phone license.

Have a mobile device with internet connection and

Android OS version 8 or higher, or

iOS OS version 14 or higher. 
Currently, Talkdesk Phone mobile app is available for download in the US, Canada, Mexico, and Europe.
Then:
Download Talkdesk Mobile App through Google's Play Store or Apple's App Store. 
Note: For some Android devices, it may be required to disable the battery optimization option to ensure the app functions correctly.
Overview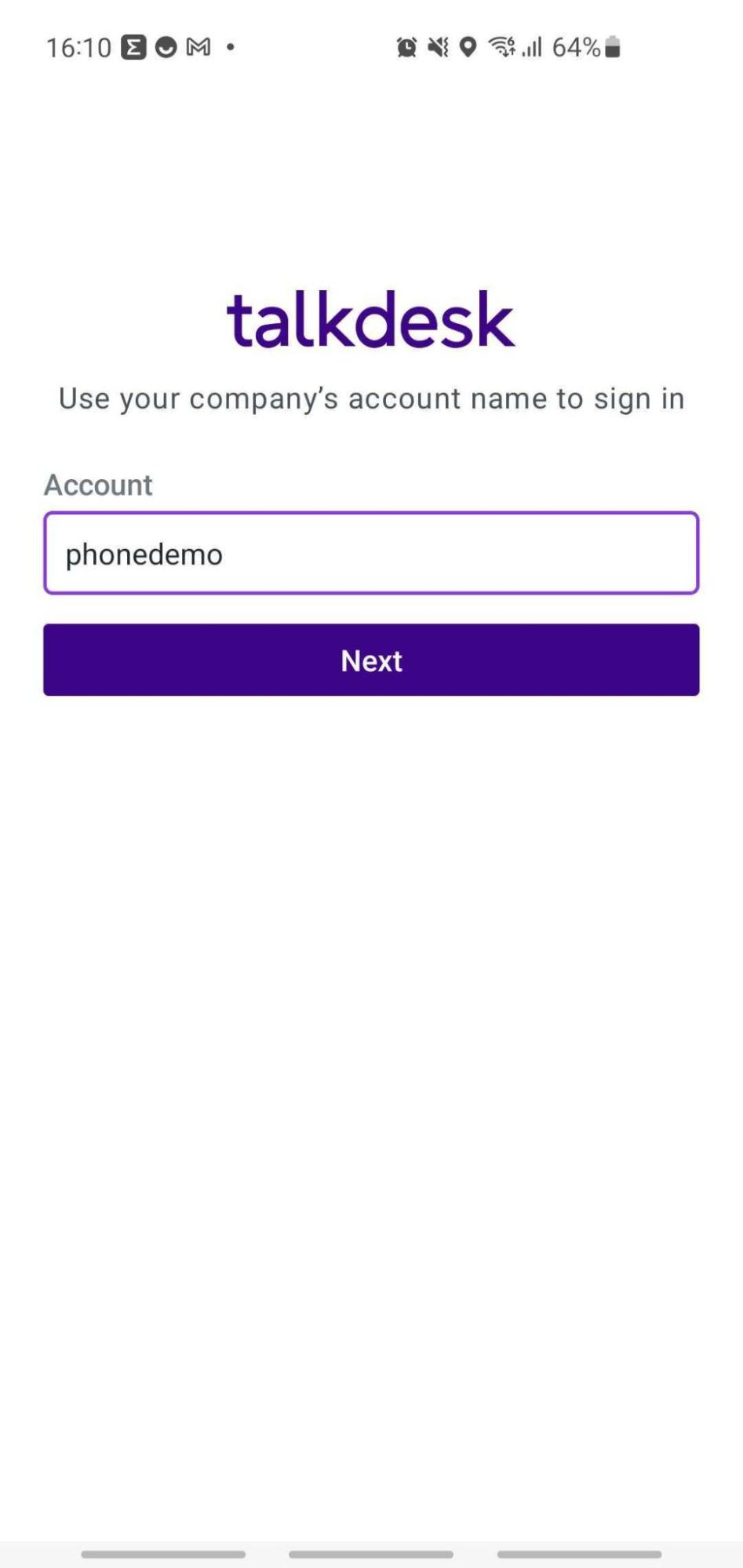 When you open the app for the first time, you are asked to log in with your credentials: company account name, your email and password. 
Then, you are asked permission to access and use some of your device's native capabilities:
Permission to use Microphone:

this permission is used to allow calling.

Permission to access device contacts:

This allows the user to start a call using Talkdesk Phone Mobile App directly through the native contacts applications. It's also used to identify incoming calls from numbers that don't belong to the account. For Android devices, this permission is also used to allow the user to start a call using Talkdesk Phone Mobile App directly through the native contacts' application.

Permissions to access call handle (Android only): This permission allows the application to know whether the user is already in a call using the native dialer. 

Bluetooth (Android 12 or higher only): To connect devices through Bluetooth.

Permission to send notifications: This permission allows the app to present important app notifications, such as missed call notifications. In Android devices (after Android 13), this permission is crucial to the normal function of the mobile application.
Recents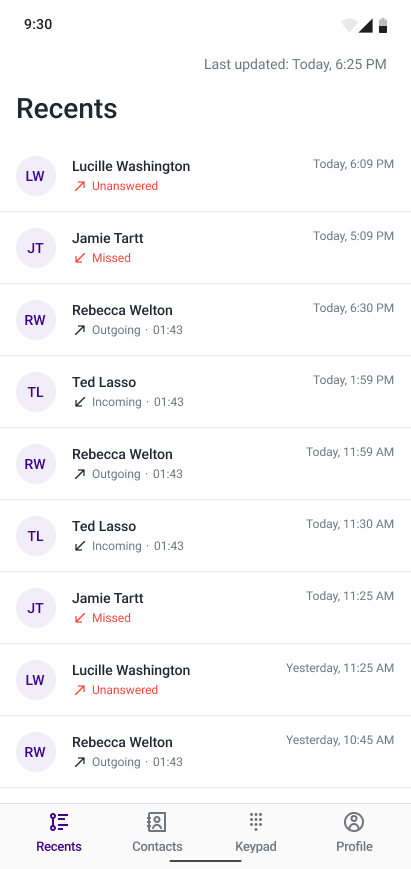 The Recents tab is the app's landing page. It shows your recent activity across all your Talkdesk Phone devices. You can click-to-call directly from this page.
Contacts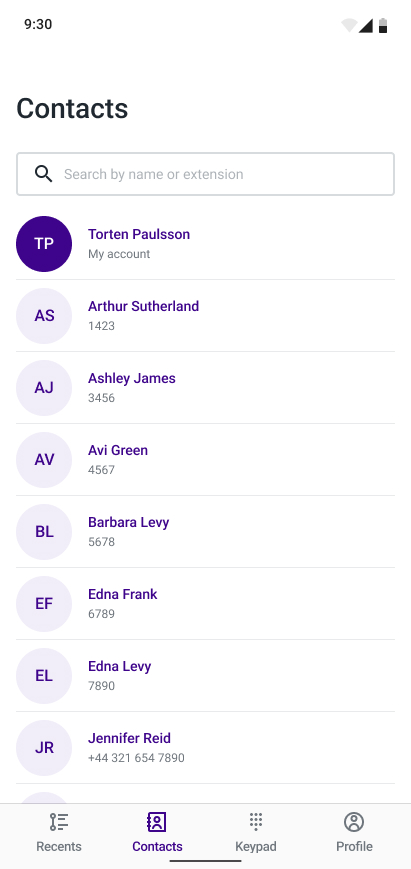 In the Contacts tab, you can search any Talkdesk Phone user for your account by name or extension. You can also click-to-call from this tab.
Keypad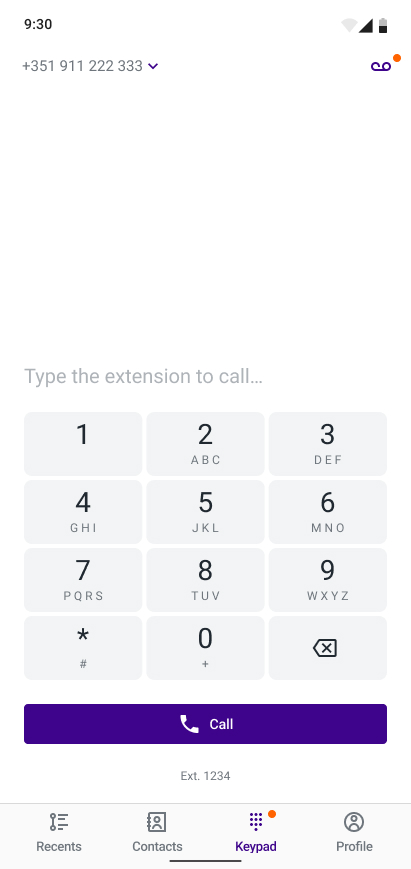 From this tab, you can configure the outbound caller-ID, dial specific numbers, and access your voicemails.
Profile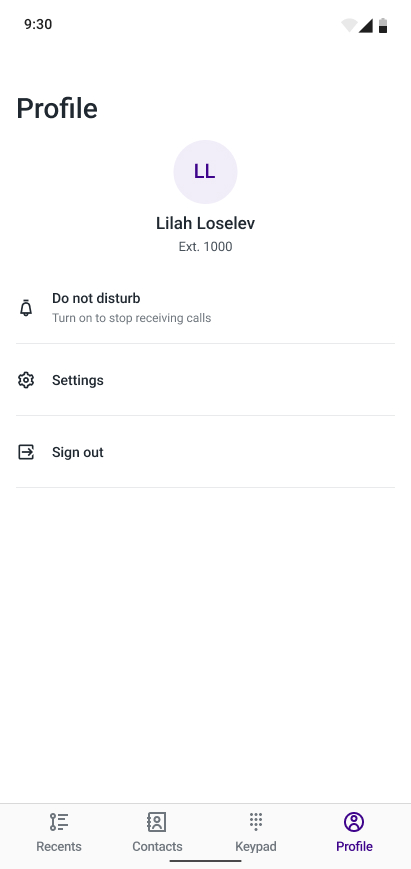 Starting from this tab, you can:
Check your name and extension.

Set Talkdesk Phone to "Do not disturb".

Configure product settings such as:

Synching user contacts (Android only).
Setting up call forward.
Setting up user's voicemail announcement language. Users can select one of the following languages:

English (US)
English (GB)
Spanish (ES)
French (FR)
French (CA)
German (DE)
Portuguese (PT)
Portuguese (BR)
Italian (IT)

Reporting a problem.
Checking the app's legal notices.

Sign out, logging yourself out from the app.
For more information about Talkdesk Phone Mobile App, please visit our product documentation page.