By setting an agent's Callbar integration, admins can allow agents to pop open and search contacts on the selected integration straight from Callbar.
The agent's Callbar will then display a badge next to the contact's initials showing the Salesforce, Zendesk or Desk logo; or an arrow-up icon for any other integration.
When making or receiving a call, by clicking the contact's badge in Callbar, agents are automatically taken to the contact's profile page on that integration: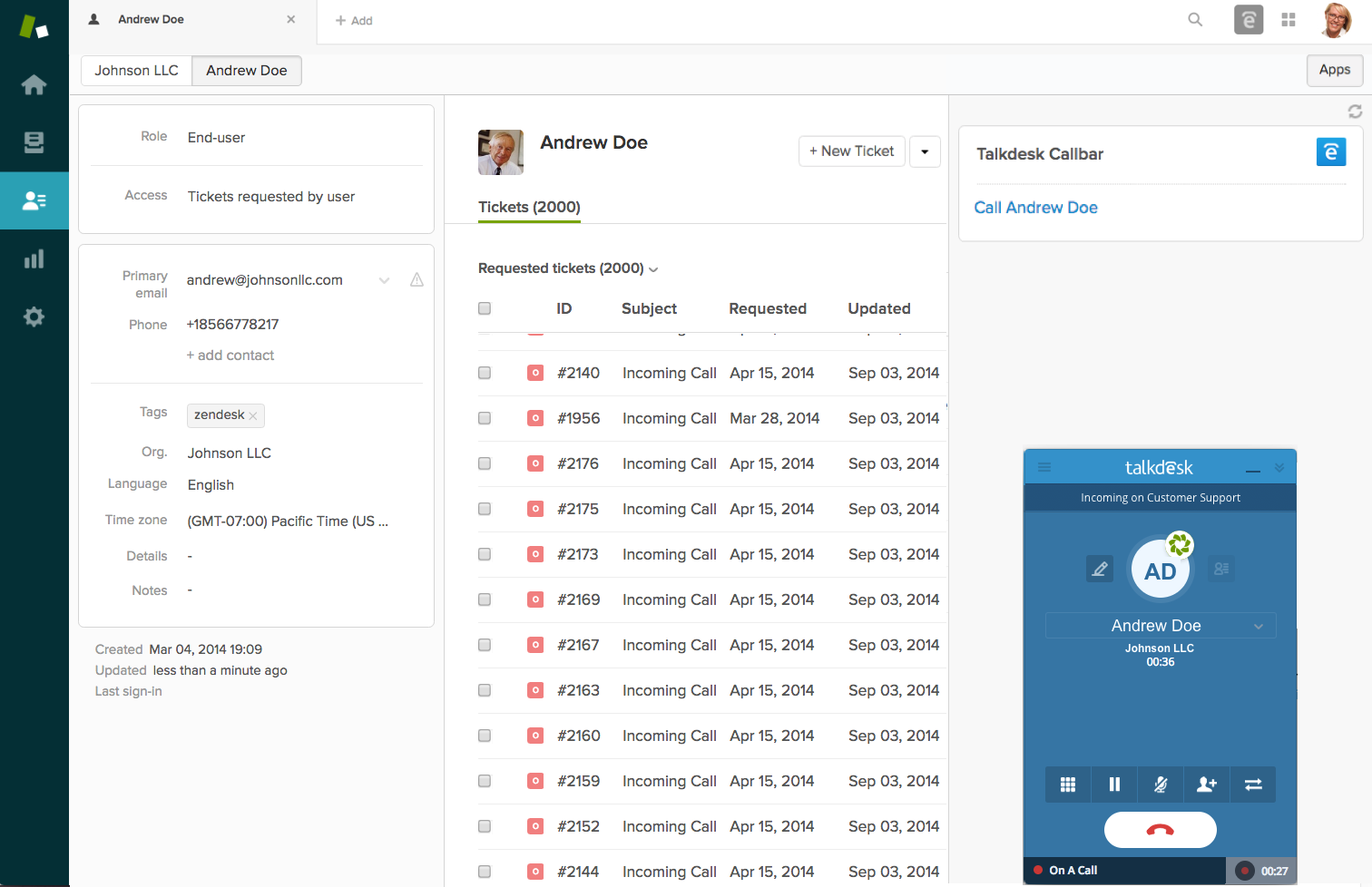 How does it work?
Once admins configure an integration from the list of available options in the Talkdesk Integrations section and sync contacts to Talkdesk, the integration is automatically added to the list of available Callbar Integrations: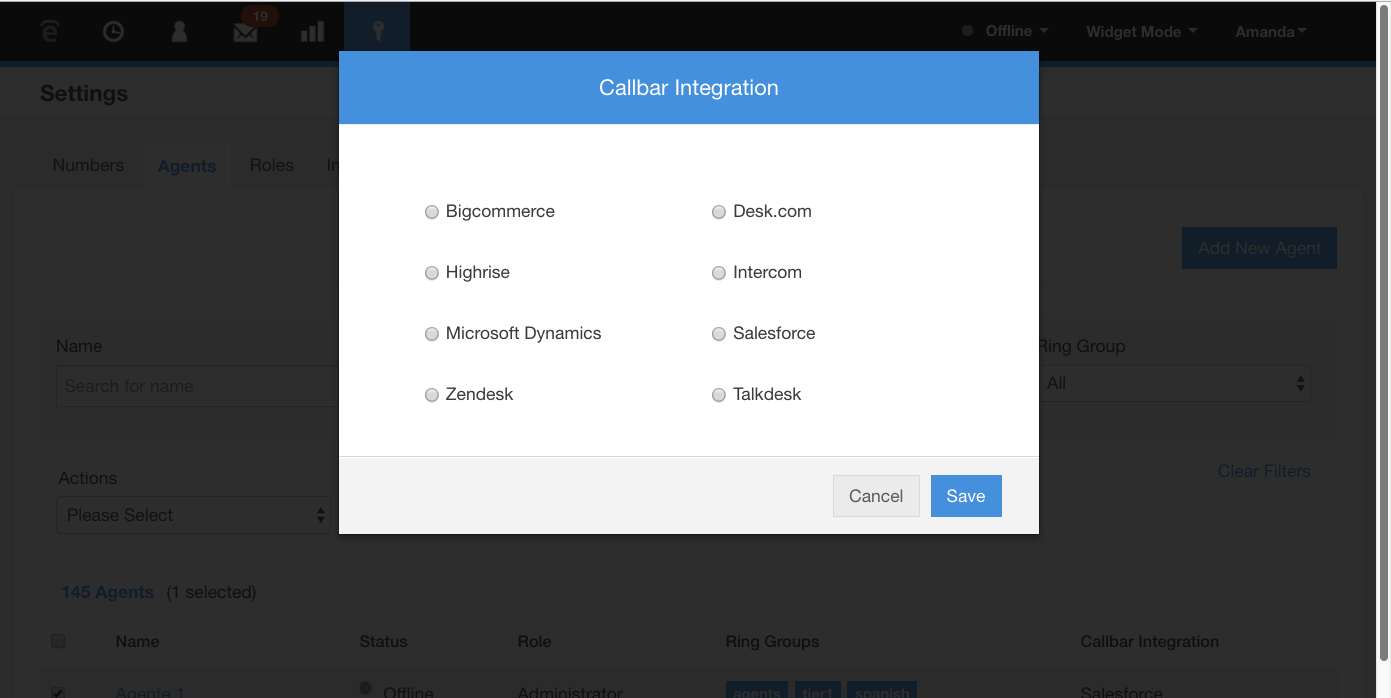 Out of the box, this is the current list of integrations that allow you to pop a contact using Callbar:   

Admins can also choose to have agents use only Talkdesk. Selecting Talkdesk as Callbar  integration will allow agents to pop and display the contact's profile in Talkdesk through a single click. While the call is still ringing, or while making or receiving calls, agents simply need to click the Talkdesk logo badge in Callbar to open that contact's activity history in Talkdesk
This ensures agents always have the context they need when connecting to customers in real-time, providing a 360 degree view of the incoming caller to reduce time to resolution and tailor customer's experience: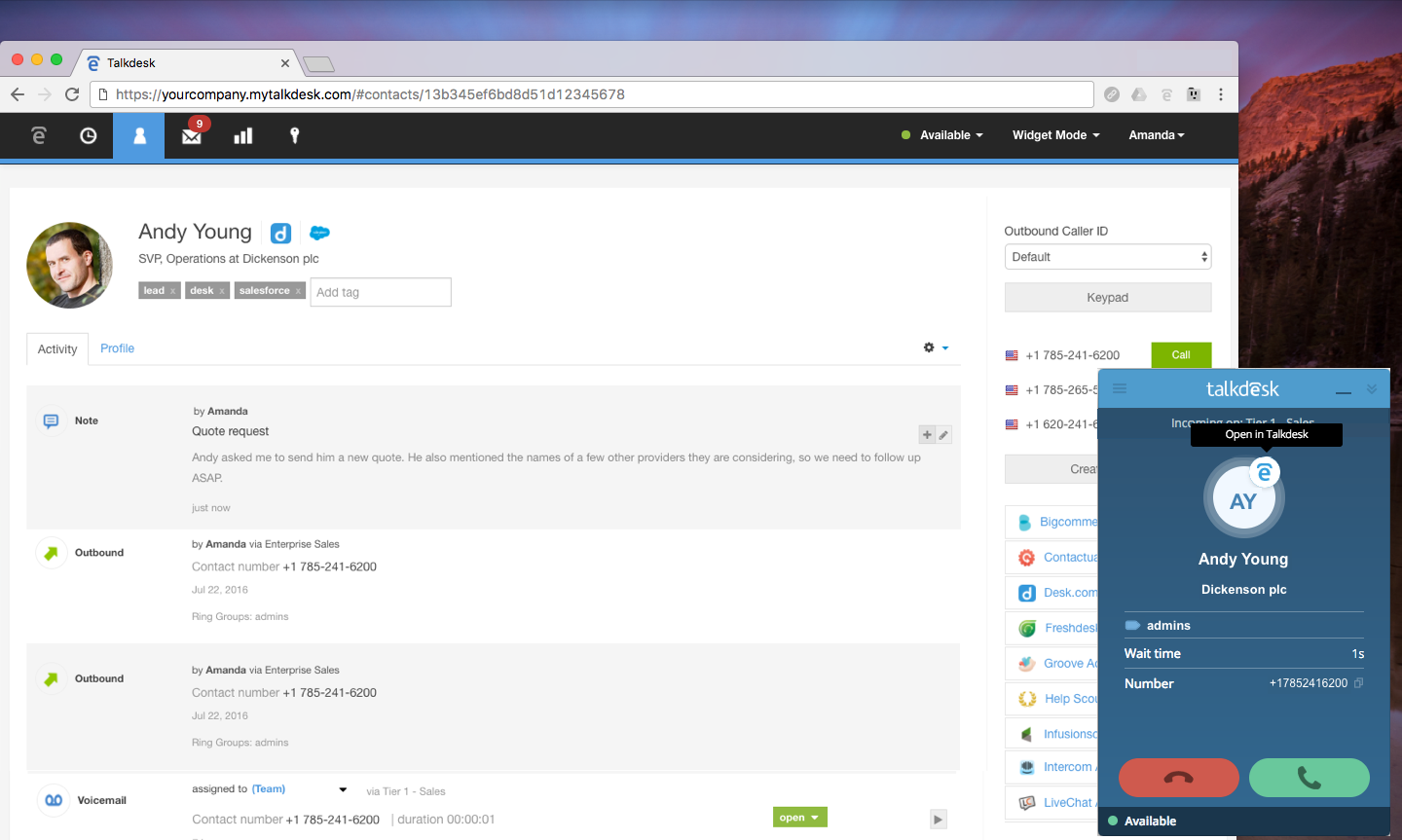 Interested in setting up an integration not listed? Setting up a custom integration, including home grown CRMs (as long as it has a contact sync configured) is also available to subscribers of an Enterprise plan. Please contact our support team for more information: support@talkdesk.com 
To set a Callbar Integration per agent:
Log into your Talkdesk account as an Administrator.
Select the 'Admin' section from the top navigation bar [1].
Select the 'Agents' tab [2].
Click the name of the Agent you wish to assign a default integration for Callbar [3]: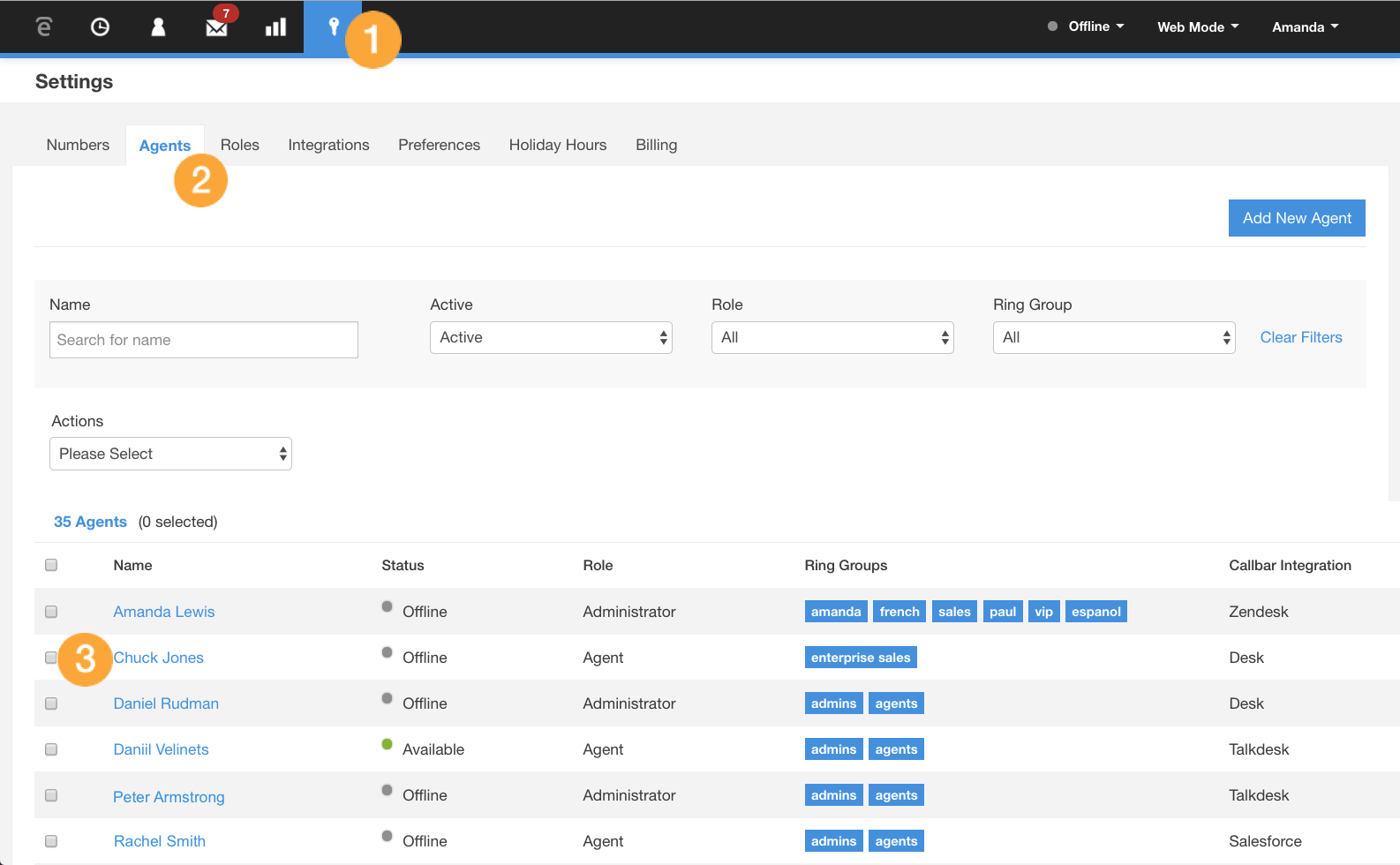 Scroll down to the 'Callbar Integration' menu [4].
Select the required agent's default integration from the drop-down menu list [5]: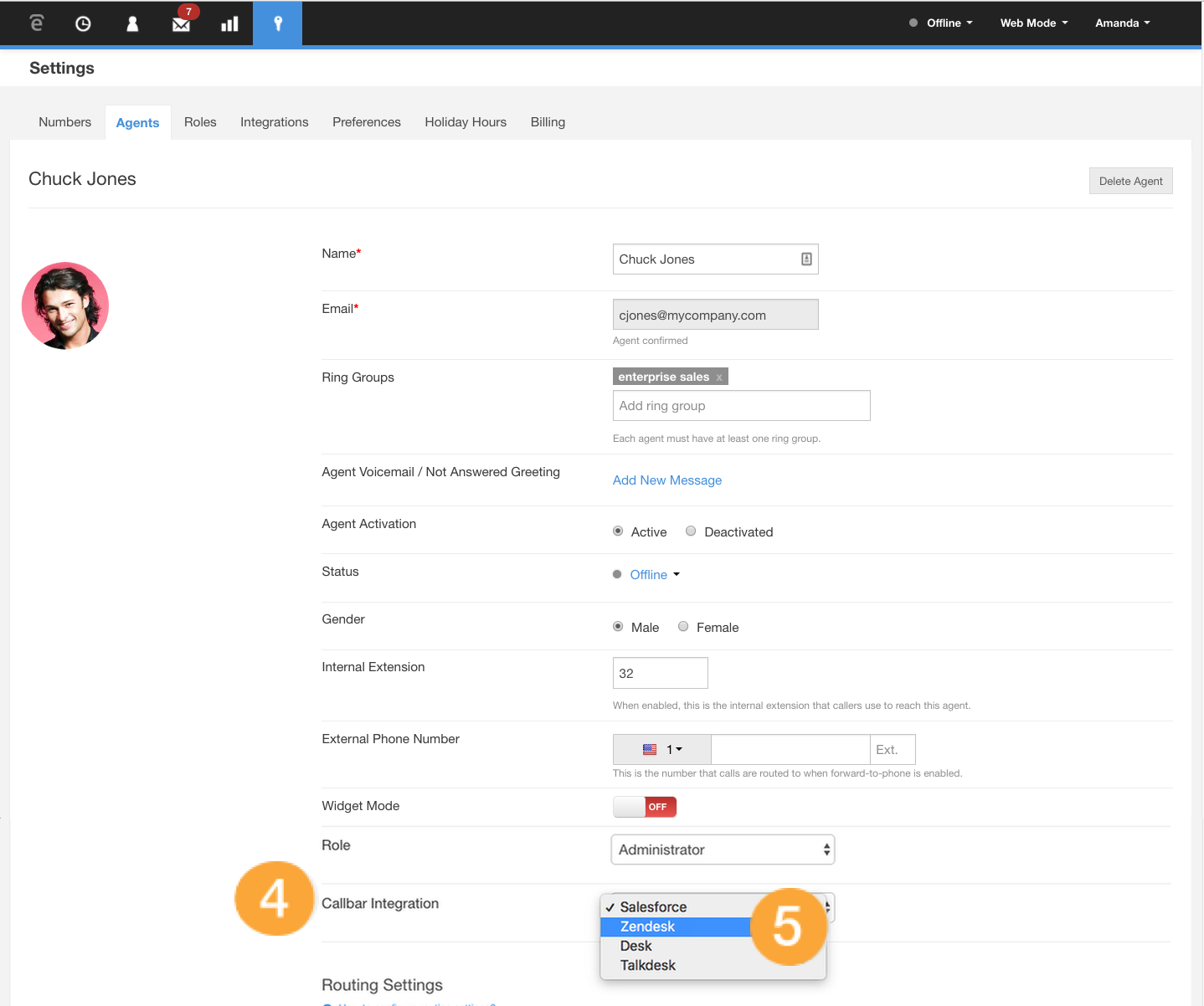 Save your changes at the bottom of the page.
Note: In case an integration is selected for which the agent is not yet configured, an error is displayed to inform admins should create the user on that integration first. Also note that agents added to Talkdesk using Talkdesk for Salesforce Managed Package are automatically assigned to Salesforce as the default Callbar Integration. 
To bulk assign a default Callbar Integration for a set of agents: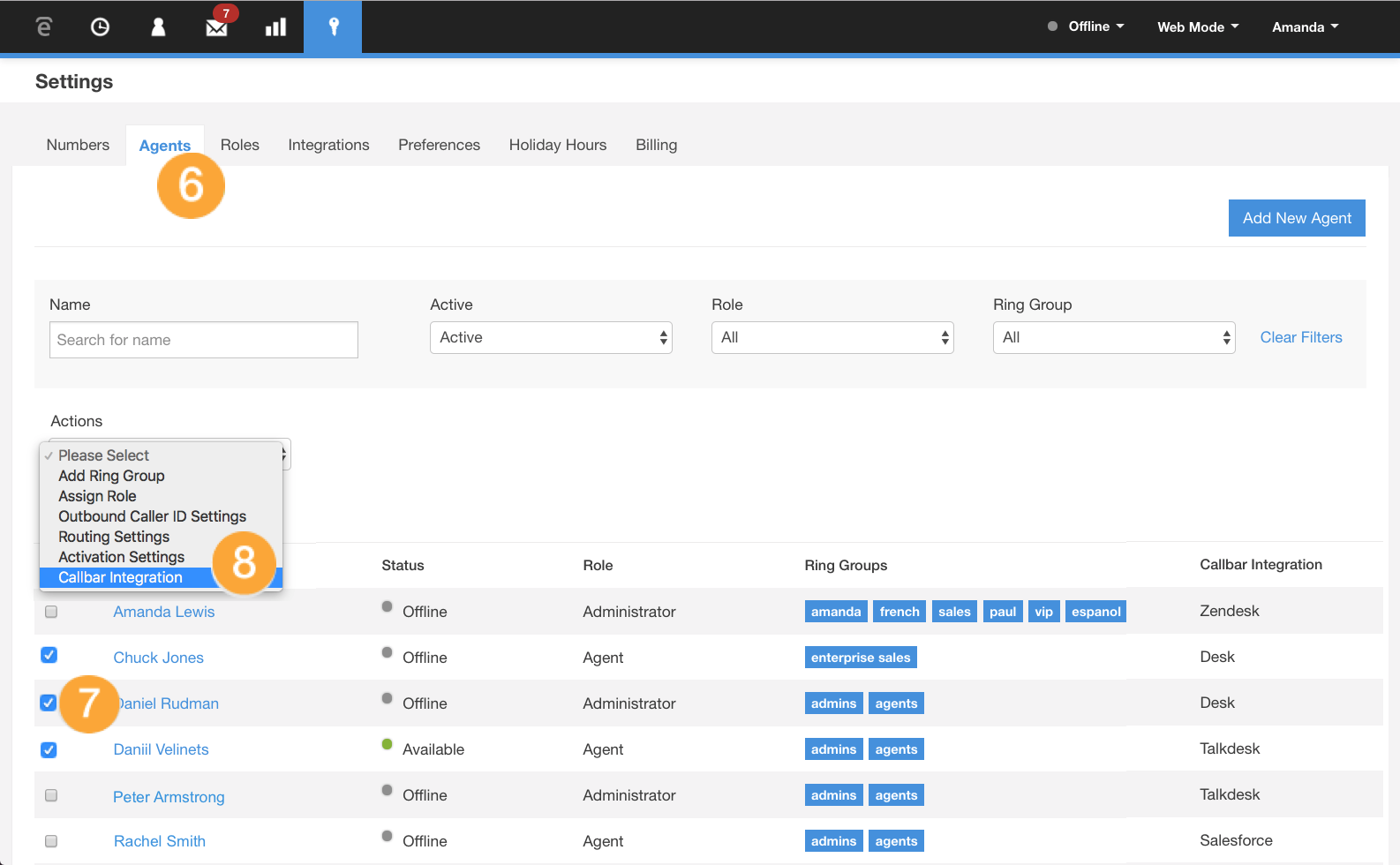 Select the 'Agents' tab [6].
Tick the box next to the name of the agents you wish to assign a default integration for Callbar [7] (or tick the box next to 'Name' to select all).
Open the 'Actions' drop-down menu and select 'Callbar Integration' [8].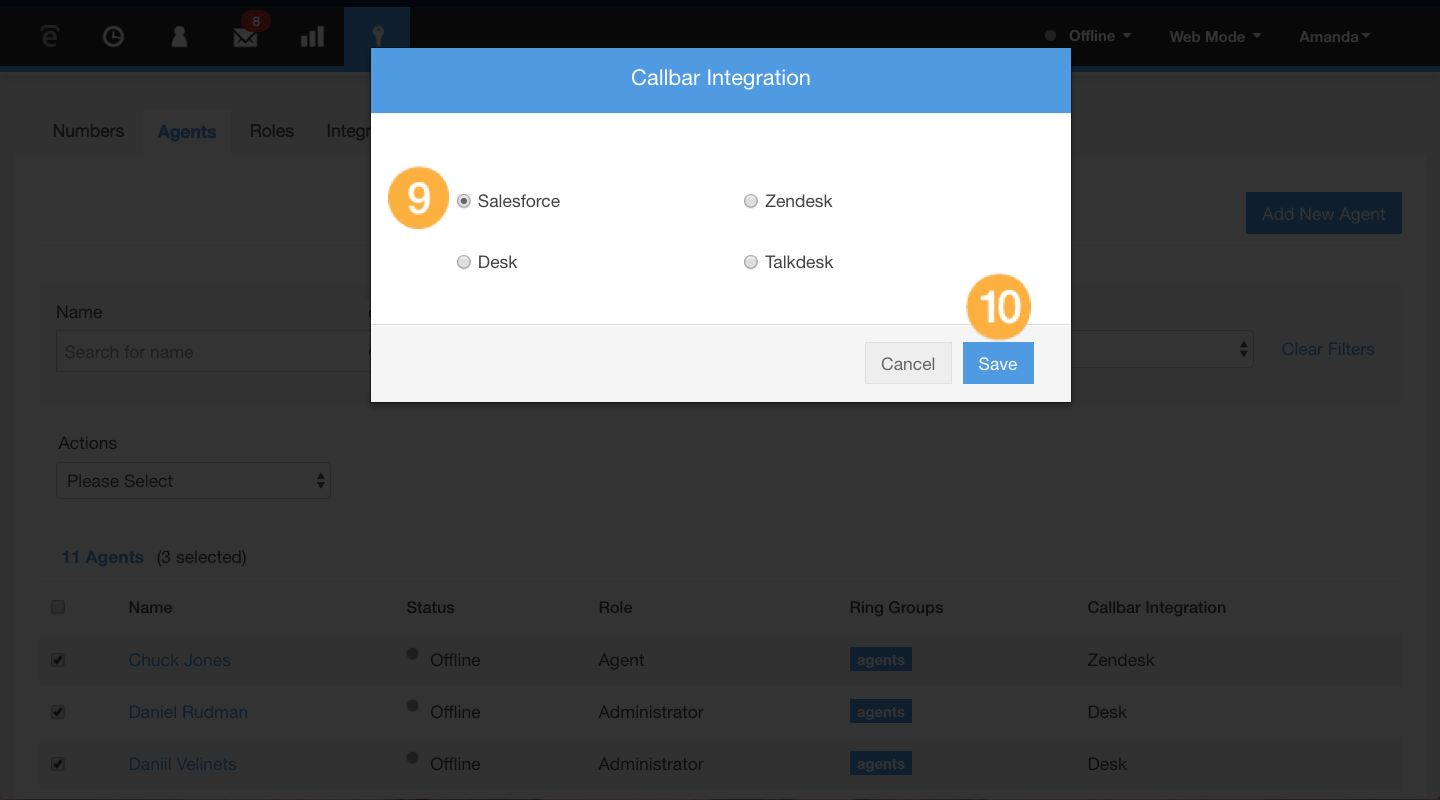 Select your desired default Callbar Integration [9] and click 'Save' [10].