Clicking on an application from the AppConnect homepage will open the application's listing page with its full description, media gallery, and pricing plan. All apps can be installed and tested in a 30 day Trial: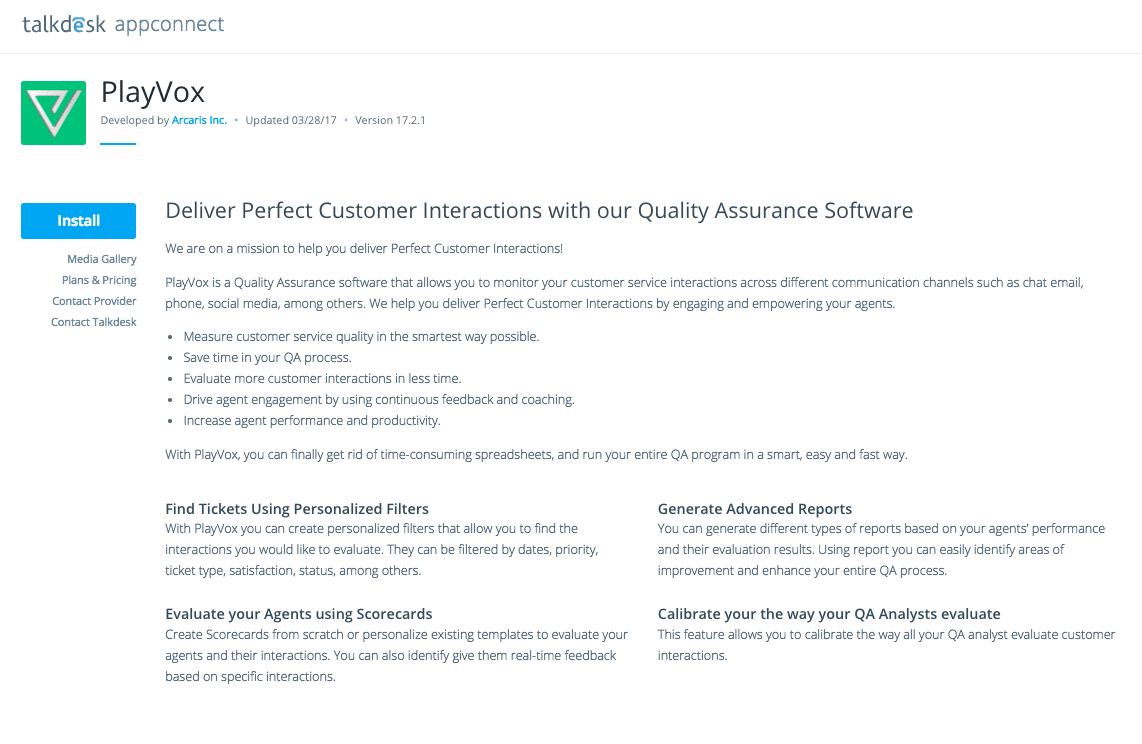 Once ready, click the 'Install' button [1]: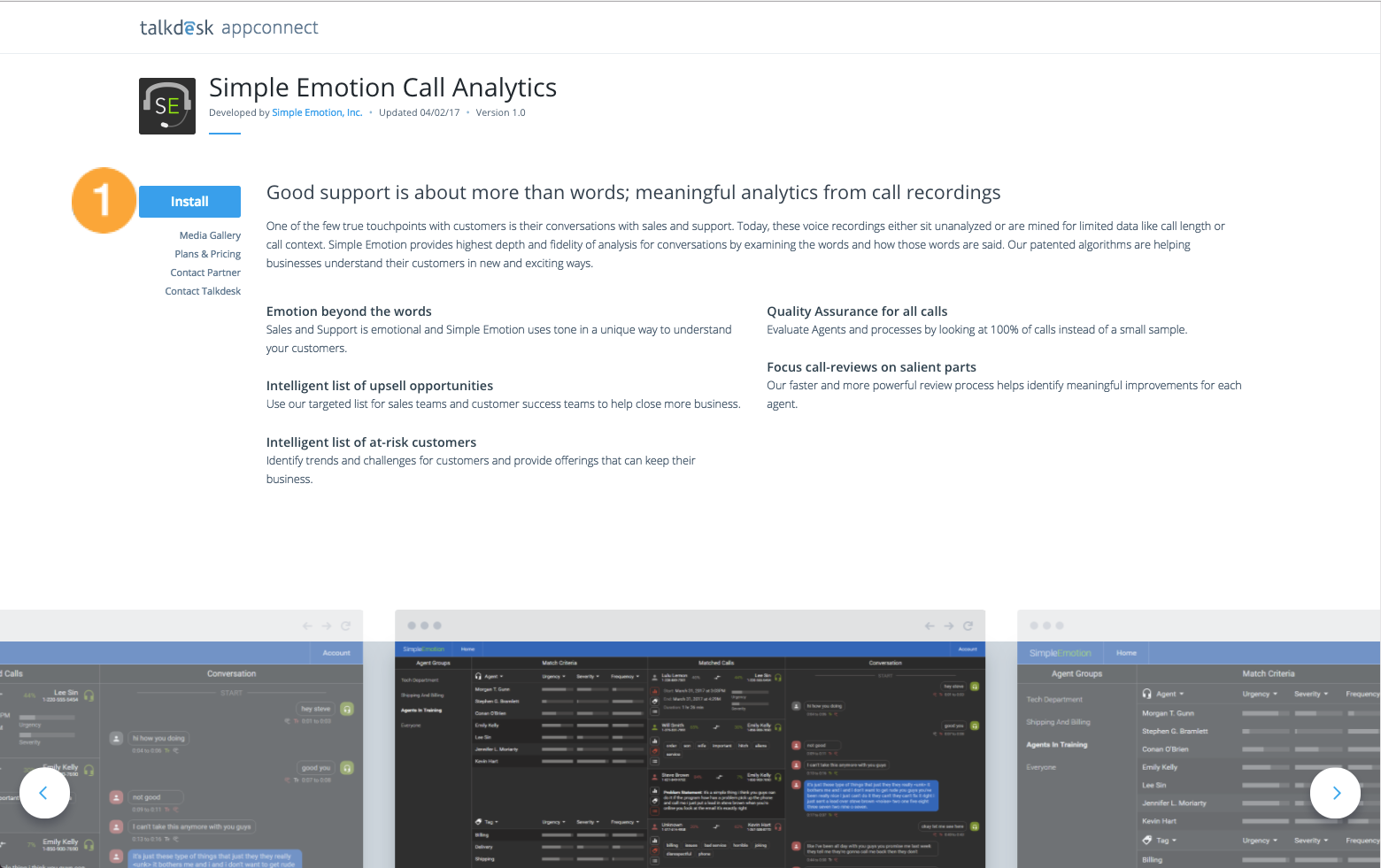 Note: By default, only Admins can install and manage applications. However, Admins can block or grant this access for additional users at any time by accessing the Roles tab in the Admin section. To learn how to do this follow the instructions here.
Select your desired plan and press 'Next' [2]: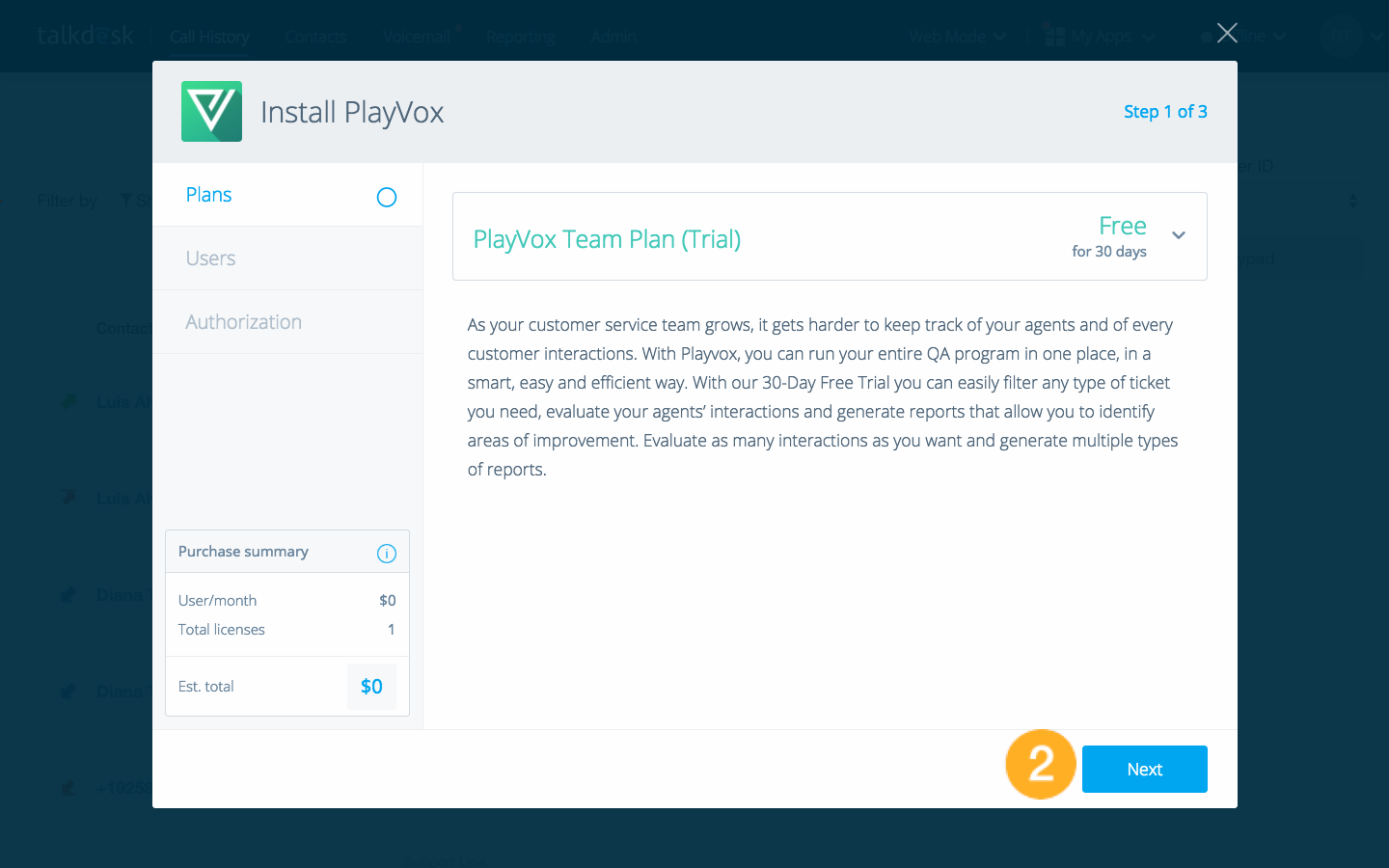 Select the users who will be using the application [3] and press 'Next' [4]: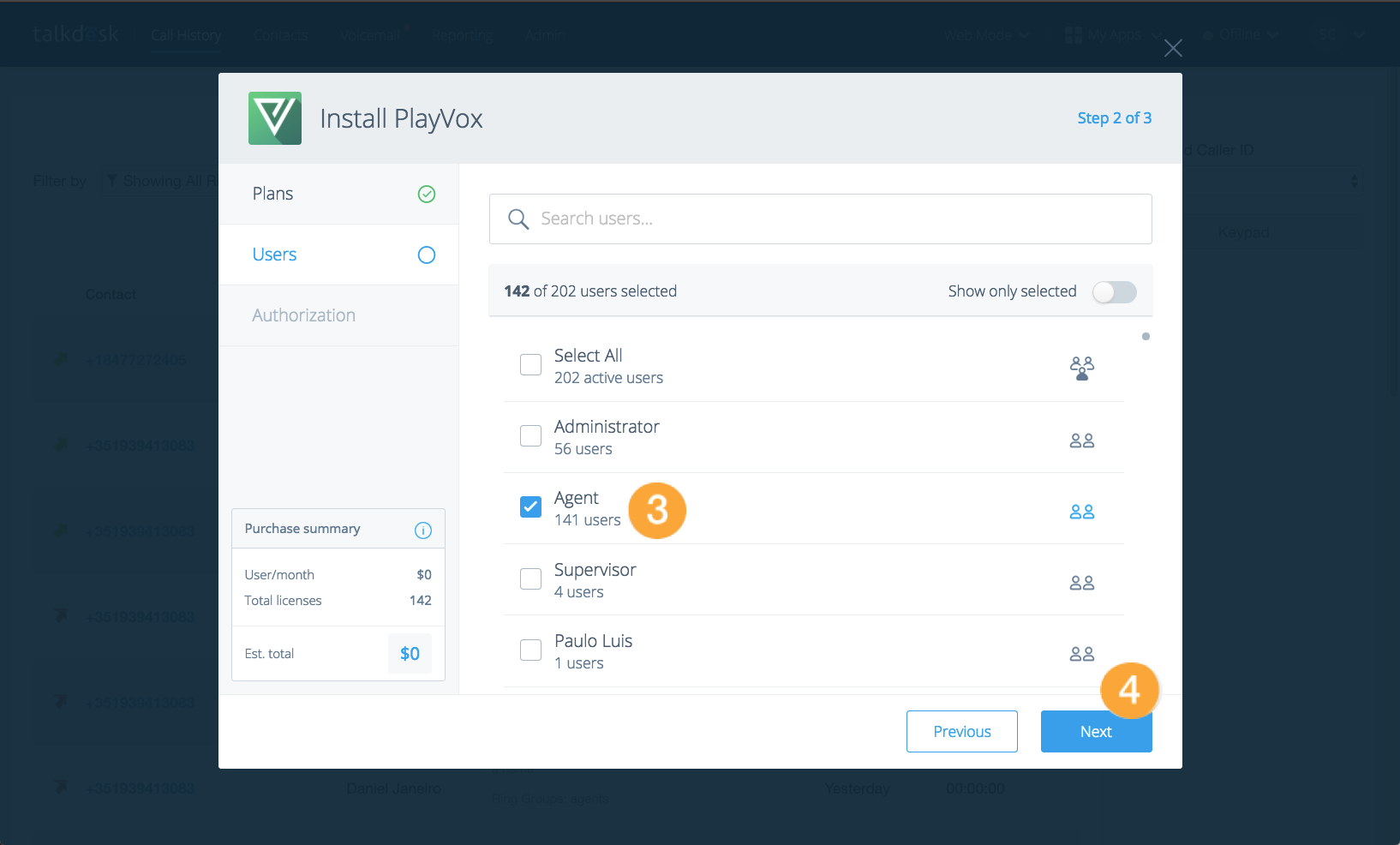 You will need to accept the app's Terms & Conditions and Talkdesk AppConnect Purchase Terms [5] before being able to press 'Install' [6]: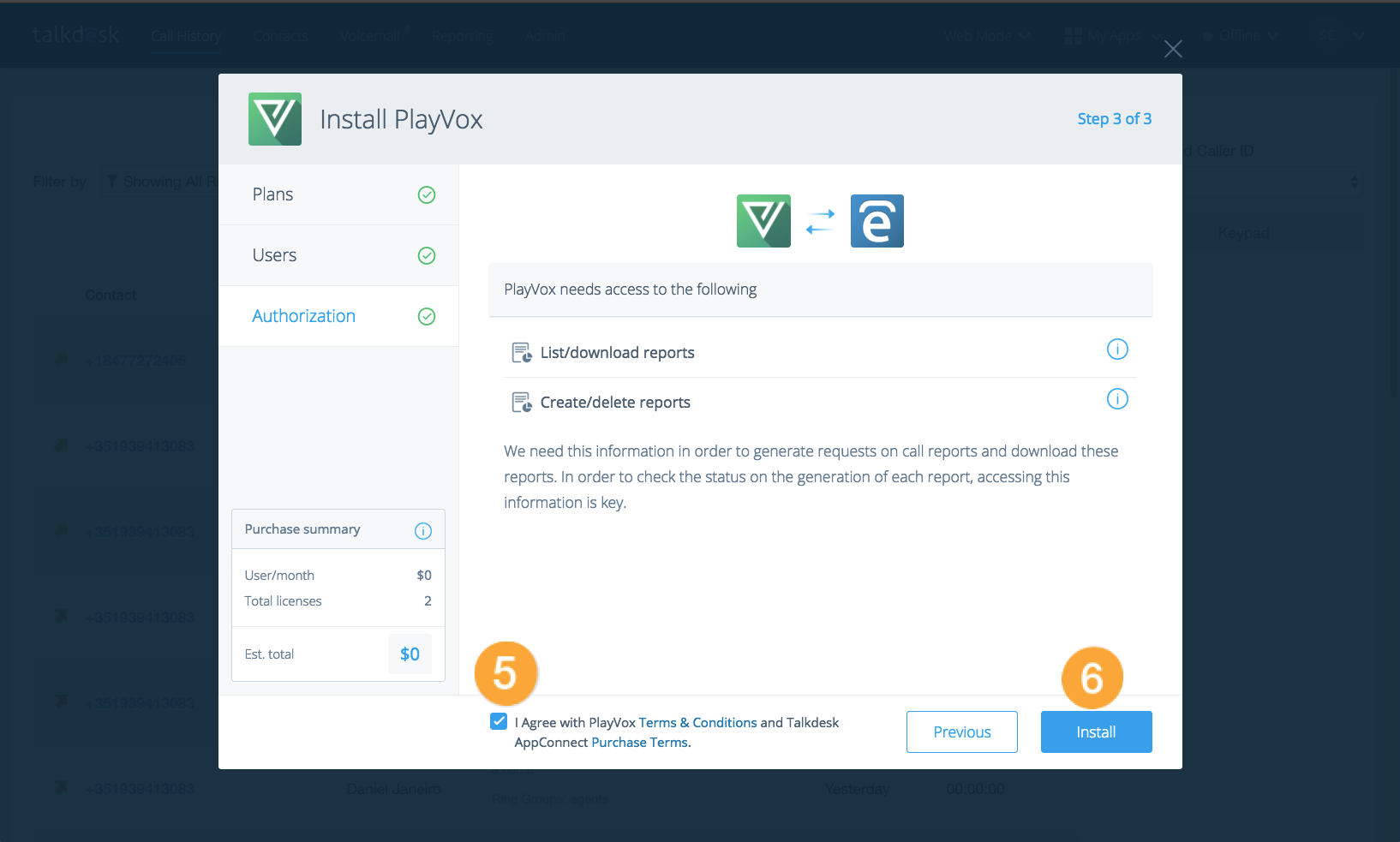 Note: Talkdesk cannot be held liable or responsible for any downtime or damage that may result from installing and using a third party app. Please see our updated terms and conditions.
The request is then sent to our application partner for approval and provisioning, and the status of the application is changed to Installing [7]: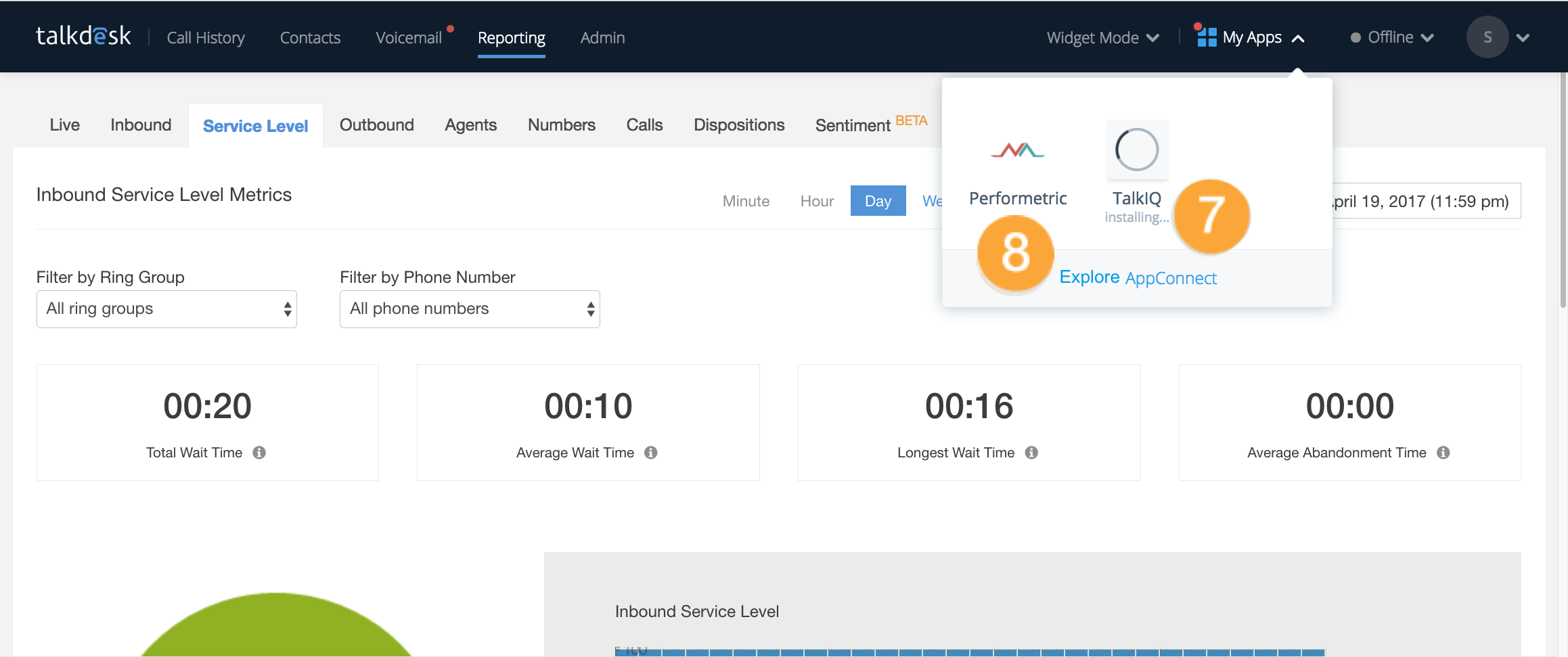 Once approved, you'll receive a confirmation email when the installation is complete.
The app status will also show as active/ready to launch [8] under your 'MyApps' list.
Clicking the app icon will then launch the application in a separate tab. If this is the first time you are accessing it, you will be required to login. You should login with your Talkdesk account credentials or, in case SSO is enabled for your account, use your Google account or Salesforce credentials instead.
Note: Okta and OneLogin SSO is not supported at this time and you will need to use your Talkdesk credentials.
AppConnect Billing
Every AppConnect application will offer a 30-day trial. 
Trials will not automatically renew, so you will lose access at the end of your trial.
To continue using an application, simply click the settings icon for the app [9] and upgrade to a paid plan: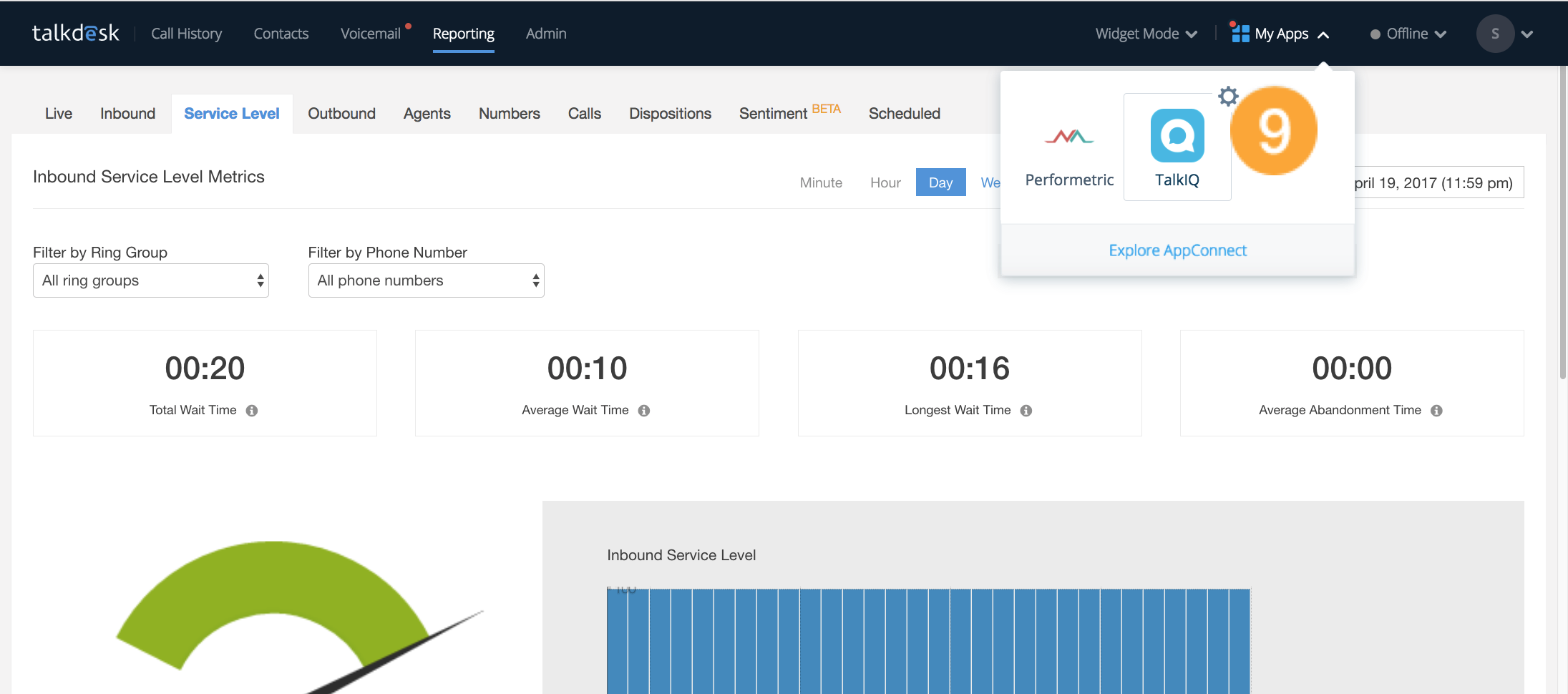 If you have permission to update installed apps, you can then upgrade your plan or manage which users have the app installed.
Apps are billed on a month-to-month basis and costs are consolidated to your Talkdesk bill.
Adding users will increase the number of licenses you purchase, and will be reflected in the purchase summary. If you remove users, you will still maintain the same number of purchased licenses, and you will see the count of unassigned licenses in the purchase summary.
Note: You cannot uninstall an app for your own user when you have installed the app yourself.
To learn more about AppConnect billing, please see the Talkdesk AppConnect purchase terms.
If you run into an error installing or managing your apps, please see the Talkdesk AppConnect troubleshooting tips.