Talkdesk is focused on enabling best-in-class interactions between you and your customers, and we understand that external applications may be an important part of that experience. From driving decisions around workforce management, improving service through quality assurance, or providing valuable insights from voice transcription and analytics, Talkdesk AppConnect is designed to help you improve those customer interactions by allowing you to easily and quickly integrate with external applications.
Talkdesk AppConnect is the first full-service enterprise software marketplace for call center applications. 
Accessing Talkdesk AppConnect 
Talkdesk AppConnect is currently in Private Beta and available only to customers who subscribed to our Early Adopters program.
If you are an Admin or a Supervisor, you can request to take part in this beta by clicking 'My Apps' [1] in the top navigation bar and then the 'Join AppConnect beta' button [2]: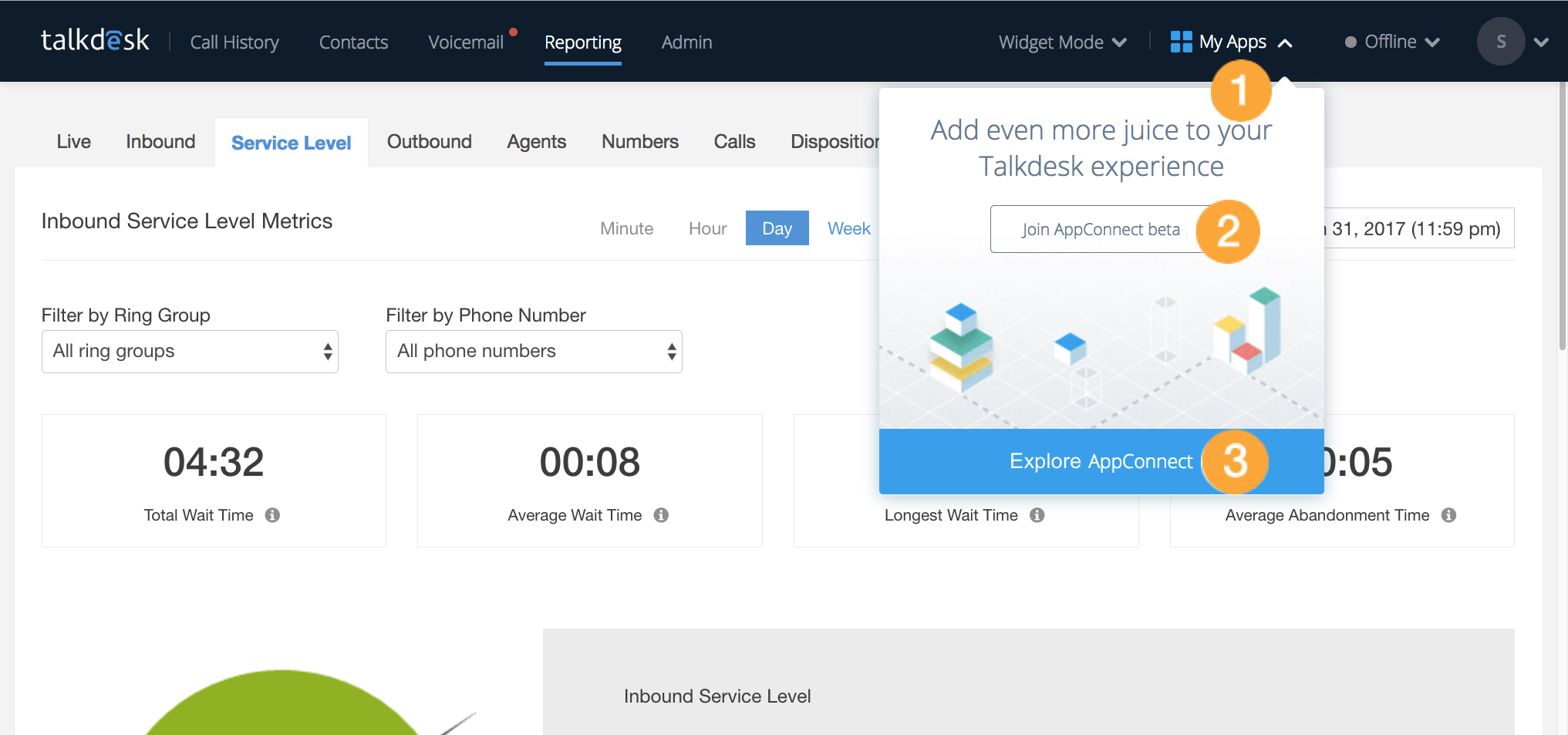 We will evaluate beta requests weekly and inform you if you've been accepted into the AppConnect beta program.
Once your request is approved and you have been added to our beta program, simply click the 'Explore AppConnect' [3] button to start exploring and connecting your Talkdesk contact center to our suite of industry-leading apps.
Talkdesk AppConnect is a standalone application and can also be accessed by visiting the following link: appconnect.talkdesk.com
You can then start exploring our full list of apps that are 'Install Ready' or 'Coming Soon' [4]: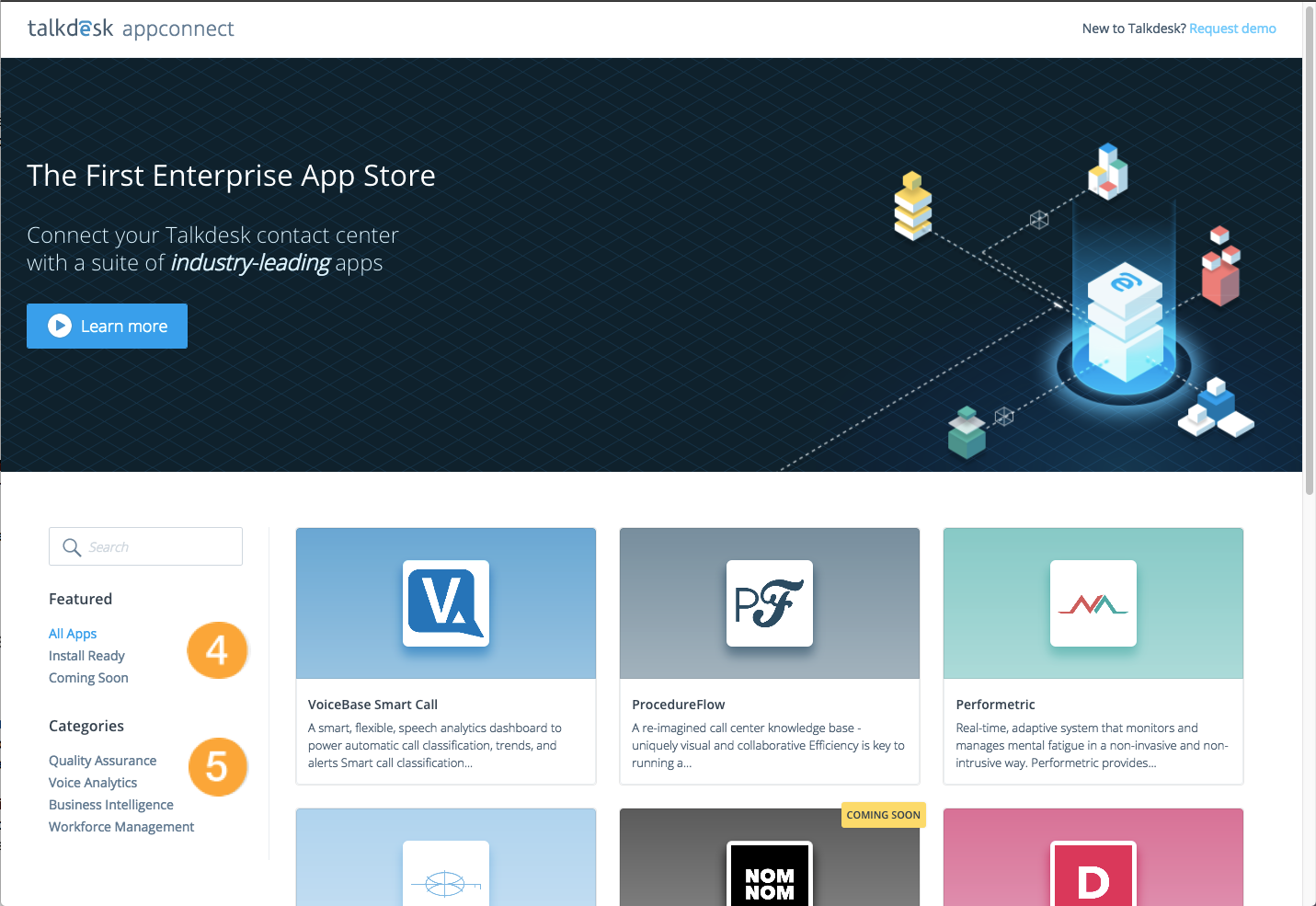 App Categories
The menu on the left allows you to quickly filter Talkdesk AppConnect applications by category [5]:
Quality Assurance: list of Talkdesk partner applications that offer you new ways of monitoring and ensuring the quality of your service, contributing to the improvement of agents' productivity and performance.
Voice Analytics: list of Talkdesk partner applications using machine learning, sentiment analysis, or keyword tracking to automatically analyze recorded calls, allowing you to gather additional customer information to improve communication and future interactions.
Business Intelligence: list of Talkdesk partner applications offering tools to search, organize and share your customer feedback. Unlock important data hidden in internal systems and automate data streams.
Workforce Management: Talkdesk partner applications offering tools that improve customer service, employee satisfaction and profitability through optimized, automated forecasting and scheduling, to empower and engage employees.
You can then start installing AppConnect applications.
If an app is not yet available but listed as 'Coming Soon', you will be able to join a waitlist [6] to be contacted as soon as the application is available: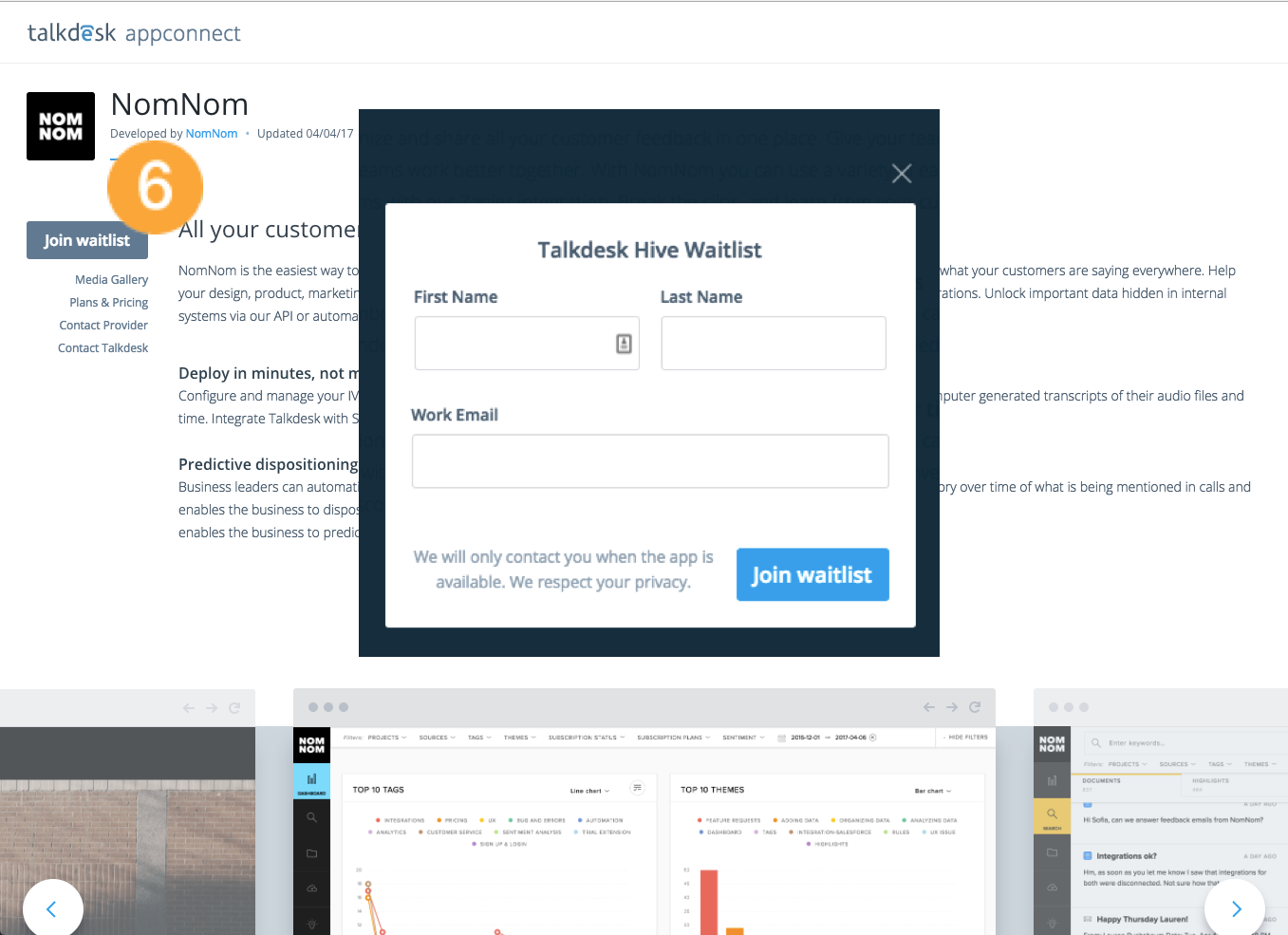 If you would like to become a partner and see your business featured in AppConnect, please visit: https://www.talkdesk.com/partner
If you are a developer and interested in building a custom application, please visit: https://docs.talkdesk.com/docs